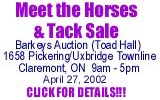 Adopting, Fostering & Volunteering
Our Horse Stuff for Sale on Ebay (US $)

Our Horse Stuff for Sale on Ebay (Canadian $)

Heaven Can Wait Equine Rescue has moved. If you are not automatically taken to the new site within 10 seconds, please click here: http://www.heavencanwaitequinerescue.org ADOPTION:
Adopting a horse is a serious responsibility. Horses require a lot of time, patience, money, commitment, knowledge, love, proper care, companionship, housing and much more. Our goal at HCW is to find these equines new loving, knowledgeable, permanent homes where they will never have to face fear again, whether it be fear of not being fed or watered, fear of not being warm enough in the winter or sheltered enough in the summer, fear of being mistreated or neglected, fear of being shipped off to an auction or a slaughter house. We want these equines to feel loved, feel safe and be well looked after in their new homes.
If you are interested in adopting a horse or pony from HCW please fill out an application form. Your information will then be reviewed and you will be contacted either by phone or by email. If we have the particular horse you are interested in, or something similiar you will be invited out to meet that horse or pony, either here at HCW or at the horse's current foster home. After the viewing, we will follow up with you, and will discuss further adoption procedures, or we will explain to you why adoption of this horse is not suitable for you at this time.
Home (farm/facility) Inpections will be conducted, and References will be checked.
Trailering arrangements can be made from our end, but the costs are your responsibility.
Equines adopted through HCW Equine Rescue CANNOT be sold or given away or sent to an auction under any circumstances. They must always be returned to HCW. I do not want to lose track of any of these horses. Adoption fees will be refunded when the horse is safely returned to HCW.


FOSTERING:
Often at HCW we have a large number of "companion only" horses available for adoption - we have found that not alot of people want to "buy/adopt" a lame or old horse for use as a companion, but they are willing to "lease/foster" one. So we started up the Fostering Program.
Fostering an equine is very similar to "Free-Leasing". You are required to pay the costs of daily care for this horse, such as board/feed, vet, blacksmith, de-worming, trailering, etc but you do not own the horse and you do not pay a monthly lease fee to the owner of the horse. You will look after this horse as though it was your own. The horse will remain up for adoption - and in the event that someone is interested in coming to see the fostered horse, you must be willing to show the horse at a time that is convenient for both of you. If during the time in which you are fostering this horse, you decide that you would like to adopt him/her, you do have the right to do so and adoption arrangements can be made. Adoption fees remain the same for foster families.
If during the time in which you are fostering this horse, you decide that you would like to cancel the fostering arrangements and return the horse to HCW, you have the right to do so and arrangements can be made to have the horse trailered back to HCW. Trailering Costs to/from the foster home are your responsibility.
SPONSORING:
The Sponsoring Program is designed for families/individuals/kids that would like to help care for a HCW horse or pony, but don't have the facility or the money or perhaps the knowledge to have one of their own. You can sponsor a pony or horse of your choice for 1 month, 2 months, 3 months, etc up to a year, which you pay a monthly or yearly donation for (must be $20.00 or more per month). The average horse costs $100-$150 a month for feed alone (this does not include other costs such as vet, blacksmith, de-worming, blankets, fly spray, supplements, etc). You can help as much or as little as you want. You can send blankets, fly masks, grooming kit, $ for feed, etc. We will send you details, updates & photos of your adopted horse/pony during that time. You get to chose which horse/pony you want to sponsor and if during your sponsorship time, the horse/pony has been adopted out from HCW, you can choose another horse/pony. Email me for more details! Here is a list of companion-only horses that have been long-term residents here at HCW that are in desperate need of a sponsor:
Franni, Robin, Spirit, Misty, Razz, Cuddles, Clay, Jimmy & Houdini.

VOLUNTEERING:
HCW always welcomes VOLUNTEERS with open arms! Perhaps you can volunteer by assisting with trailering of these equines home from auctions, or to their new adoptive or foster homes?? If you have a reliable trailer and would be willing to be a volunteer driver, please email me, I'd love to hear from you. You may also volunteer your time if you are local and want to come and spend time with the rescued horses/ponies.. handling them, feeding them, grooming them, leading & tying them, some are able to be ridden, some need to be broke, stalls to be cleaned, buckets to be washed, there's always lots to do and we welcome your help. If you are not local and would like to volunteer your time, perhaps you could post a HCW flyer at feed stores & tack shops near you, or submit a classified ad or article in your local newspaper.
Here is a list I compiled of volunteering jobs:
- trailering
- de-pooping the fields and paddocks
- de-weeding the fields and paddocks
- de-rocking the fields and paddocks
- cleaning the barn & run-in shelter
- cleaning & organizing the hayloft so we can get the winter hay & straw in
- finishing building fences that we started a few weeks ago
- build a lean-to for each small paddock
- build a large lean-to for big field
- paint new fences
- clean water & feed buckets
- groom the horses
- handling the young or nerous horses/ponies
- ride the horses
- bath the horses
- wash down inside of the horse trailer
- if you are a blacksmith, vet, equine message therapist, etc - feel free to donate your services
- create business cards & brochures
- distribute business cards & brochures
- place an ad in your local newspapers
- I am sure there are many other little jobs to do that I can't think of at this time.....